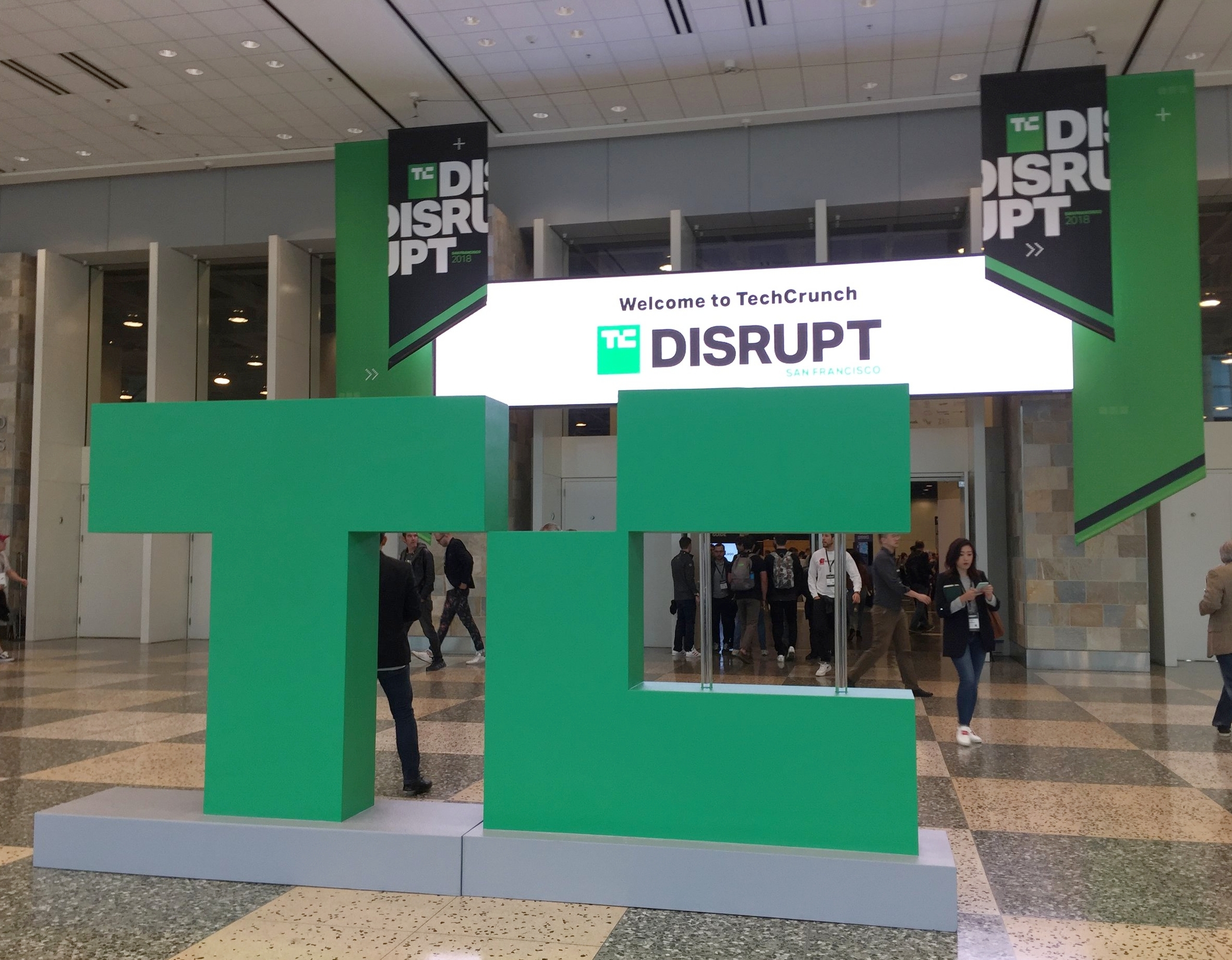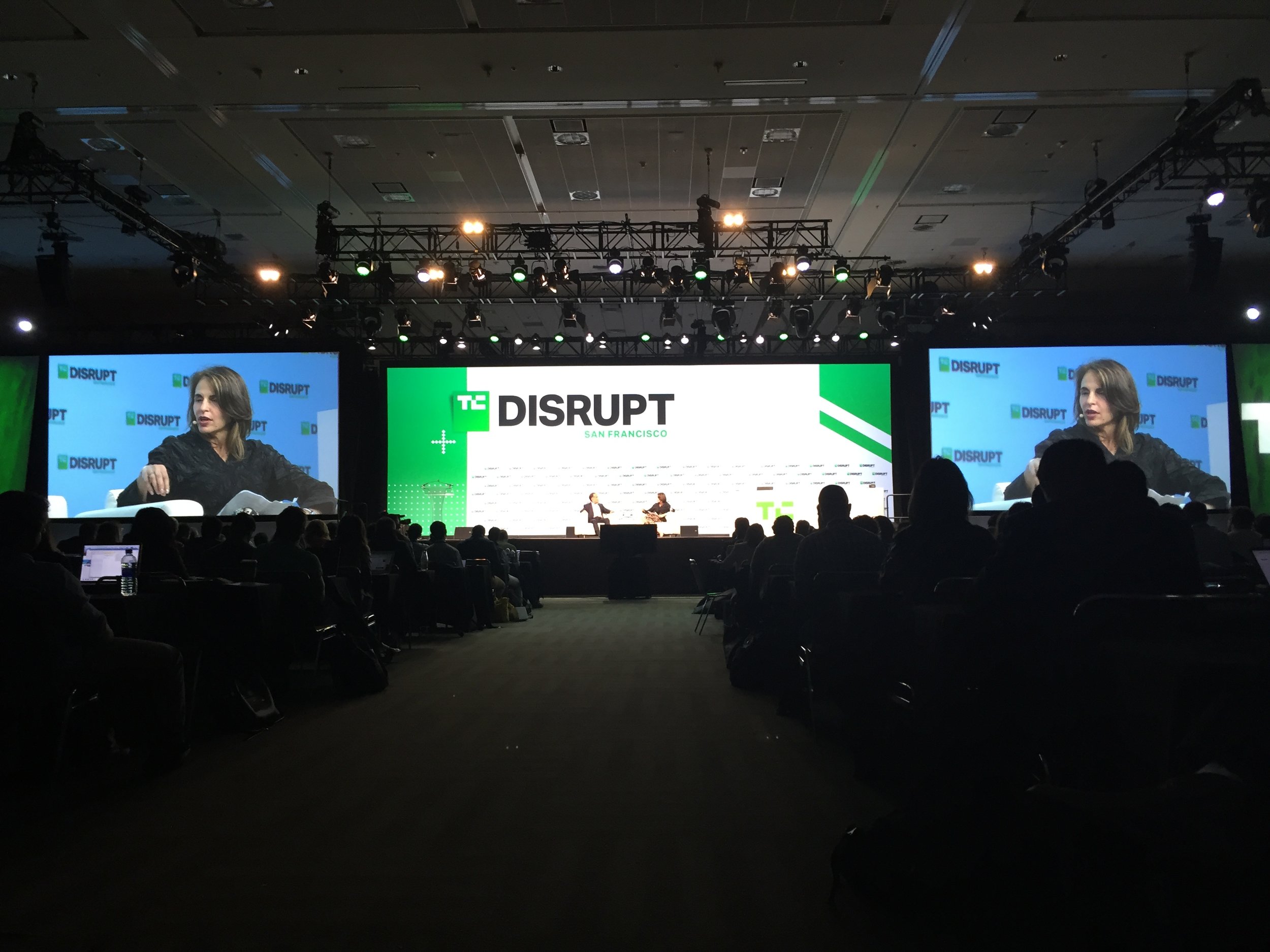 When arriving to Disrupt SF at the Moscone West Convention Center, there is absolutely no mistaking where you are. This year, there was a buzz around the venue as a record-breaking 9,000 registrants arrived to learn, network, and promote their latest gadgets and startup ideas. Inside, the whole venue was decorated with the familiar TechCrunch green, from the banners hoisted on the ceiling, to the TC logo for photo ops—even the escalators had a green glow, although it's debatable whether this was intentional or not.
The first floor was dedicated to their Startup Alley, featuring almost 1,000 startups and exhibitors from all across the world. The second floor had workshops, receptions, and meeting rooms where All Raise hosted an AMA and roundtable for female funders, founders, and executives. The female-focused events had an amazing turnout, with many who came prepared with questions to ask the All Raise investors. Table topics ranged from raising capital and recruiting tactics, to investor/board management.
The third floor was dedicated to the main stage, where our client Brad Garlinghouse, CEO of Ripple, spoke on Day 1. He was joined by Arrington XRP Capital and TechCrunch Founder, Michael Arrington, to discuss blockchain, banking, and what sets XRP apart from other cryptocurrencies. Brad stated that in order to accelerate the natures of transaction, Ripple needed to take a different approach to appeal to banks and institutions, recognizing that not everyone was willing to give up existing infrastructures to switch over to a new and unknown one.
Uber CEO Dara Khosrowshahi spoke on Day 2 about taking on the company following former CEO Travis Kalanick's departure. Dara addressed revamping Uber's image to become "a positive force for change," eliminating minority biases in the workplace, Uber's expanding services, and becoming the company for mobility. In addition, he shared his long-term mission to build Uber's autonomous fleet so "10 years from now, no one in the audience will own a car."
More insights shared by Dara from the stage:
Monetization will come later, first "you have to be solving for the customers".

"People like choices". It creates more engagement and breadth of use.

"People and computers work together better than as standalones."
On the last day of the event, entrepreneurs from around the world took the stage for the final round of Startup Battlefield. Over the course of three days, 21 startups gathered at the competition to pitch their company to investors and the audience for the grand prize of $100,000. Concluding with final demos presented in front of a panel of judges, the five finalists included CB Therapeutics, Mira, Forethought AI, Origami Labs, and Unbound. After much deliberation, Forethought AI was named the Startup Battlefield winner of Disrupt SF 2018.
Attendees are loyalists for a reason, some mentioned this was their fourth time at Disrupt. With all the excitement that was going on, there was never a dull moment.
Thank you to the entire planning team at TechCrunch, the volunteers, and everyone who helped put on Disrupt SF. We had a blast and look forward to next year!